Posted by
Bimbo
on Aug 22nd, 2007 in
Geekville
|
4 comments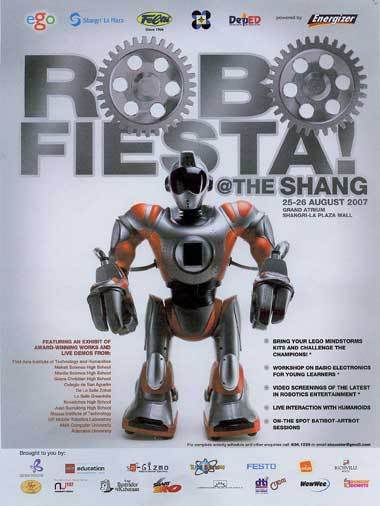 Ego Systems and Shangri-La Plaza Corporation invite the public to view [email protected] Shang on August 25 and 26 as robotics teams from various schools come together at the mall's Grand Atrium, showcasing the best in Philippine robotics to audiences both young and old as an influential avenue for education, industry, sport, and entertainment.
Powered by Energizer and presented in cooperation with Felta Multi-Media Inc (National Organizer of the 6th Philippine Robotics Olympiad), the Science Education Institute of the Department of Science and Technology, with the support of the Department of Education and SmartBro, [email protected] Shang is designed as a creative event, enabling those with long-standing interest and work in robotics to showcase what Filipinos of various age brackets have come up with.

Schools who have figured prominently in various city-wide, national and international competitions, and whose own academic and extra-curricular programmes provide their students with the creative zeal, will feature their works and share info on possible applications of robotics technology in various fields. Among these are Makati Science High School, Grace Christian High School, Colegio de San Agustin, Juan Sumulong High School, Novaliches High School, Manila Science High School, Mapua Institute of Technology, University of the Philippines Mobile Robotics Laboratory, Adamson University, AMA Computer University, and Batangas-based First Asia Institute of Technology and Humanities (FAITH), which won the championship in the World Robotics Olympiad held in Nanning, China last year.
The event likewise seeks to bring out other robotics enthusiasts who have remained "undergound" as hobbyists, but whose yen for creativity in electronics design puts them in a league far removed from traditional model-makers. CP David of the Raya School will give a workshop on Basic Electronics for 7-year-olds, while Henry Chua of E-Gizmo Mechatronix Central will discuss their latest hexapod and biped robots.. Richard Taylor and his students at Manila Science High School will share their experience in "Learning Physics Through Robotics," even as teams from Mapua, UP, and Adamson demonstrate robotic applications in industry , the military, and disaster recovery.
[email protected] Shang invites school teams to join friendly competitions in sumo, line-trace and maze-navigation using the Lego Mindstorms series, while public schools who took part in the Makati Mayor's Cup Robotics Series cap their Open Design Competition through a collective module on Robot Sports. Mylene Abiva-Sazon, president of Felta Multi-Media, will conduct an E-Lab for Lego Education, leading to father-son and father-daughter contests. .
Curated by Susan Isorena-Arcega for Ego Systems Inc, RoboFiesta @The Shang also features Norman Crisologo's array of vintage robots, collected during his trips and from ukay-ukay stores all over the country. Special guest appearances will be put in by C3PO, R2D2, and Optimus Prime, courtesy of the New Worlds Alliance. Information displays from Japan, Korea, and Germany will highlight major developments in the field of robotics alongside the Carnegie Mellon University's Robot Hall of Fame.
[email protected] Shang is brought to you by Japan Foundation, E-Gizmo Mechatronix Central, Festo Didactics, Raya School, Richville Hotel, Figaro, NU107, Dunkin Donuts, Ilustrador ng Kabataan, KidzStation, WowWee Toys, Centrex, and the Metropolitan Museum. Those wishing to join the competitions and take part in the workshops should pre-register by emailing [email protected]
For enquiries, please call the Shangri-La Plaza's Marketing Division at 636-1228, or contact mobile numbers 0919-4885409 / 0906-3099595.