Posted by
Bimbo
on May 23rd, 2008 in
Other Stuff
|
4 comments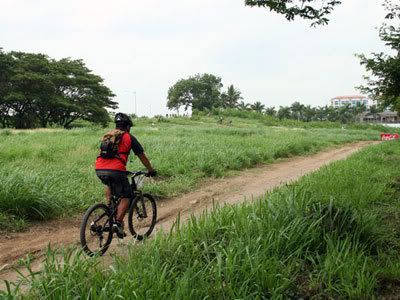 I did it. After roughly 9 hours and countless bouts with muscle cramps, I finished the minimum number of laps (25) at the Suunto 12 Hour Endurance Race at the Filcity Mountain Bike Park organized by Sabak.
It was my first race on a bicycle and my first athletic competition of any kind for a long time. So, it was with mixed emotions that I started the day for the race. The pre-race jitters were there. I miss that feeling. That feeling of anticipation. Although I was never in contention at any point in the race, since my main objective was to finish the minimum number of laps alive, I relished the feeling of competition again, something I had not felt in a long time.
After finishing the minimum required laps at roughly 7:30 PM (I was at 16 laps at 3pm but my muscle cramps in both legs rendered me useless for a good 2-3 hours after that), Mitch Estella, my partner in crime in this race had scheduled ourselves to go out on the track again at 8pm and finish the race. But the clouds opened up and rain fell on the track and that was that. We decided that someone else has decided for us not to continue the race.
All in all it was a really satisfying experience that I cannot wait to do again. I know I will never be able to even think about being in contention but who cares, obviously not me!!
More photos here!!