Posted by
Bimbo
on Oct 15th, 2007 in
Scooter Talk
|
9 comments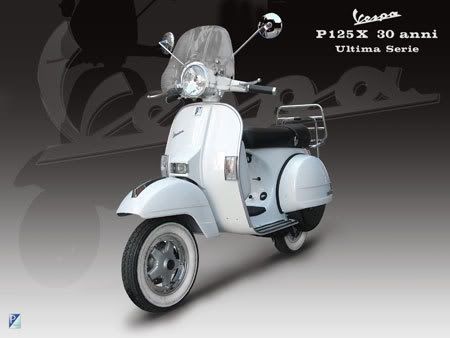 Hat tip to Steve of Scooter Scoop.
Seems that the rumors of the PX's demise were true after all. After much of the local scooter scene was in denial of the announced End of Life of this most beloved Vespa line, here we have conclusive proof that 2007 is truly the final year of the Vespa PX.
30 years is a great run, no other scooter has run for that long, I believe. Despite it's non-classic lines, as compared to it's vintage counterpart, the Vespa PX more than made up for it's lack of aesthetic appeal by delivering unparalleled durability and longevity that made it an instant favorite among regular scooter riders.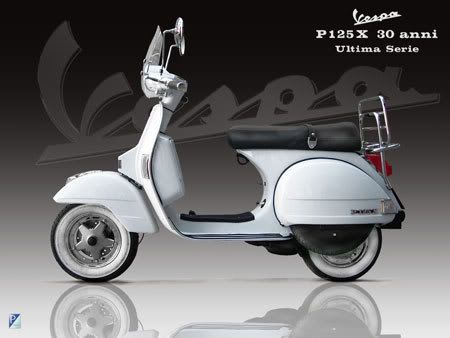 rough translation from the Italian press release.
Vespa P125X 30 years 1977 – 2007, 30 years of myth PX.

Very few products can boast to have ridden the wave for one much less many years. 30 years have seen the PX produce 40 versions, produced in piston displacements 80, 100, 125, 150 and 200 for a total or more than 3 million vehicles sold all over the world.

2007 represent also the year of end of the production of Vespa PX and for this occasion it has been decided to produce a special lottery numbered "Last Series" of 1,000 vehicles. The units belongings to this special series are guaranteed from the number of the chassis comprised between ZAPM0930200020001 and ZAPM0930200021000, brought back on one nameplate, riveted on the left front part of the traveling case, indicating also the production number.
Click here for the complete translation from the Italian Vespa site.