Posted by
Bimbo
on Jul 4th, 2007 in
Scooter Talk
|
1 comment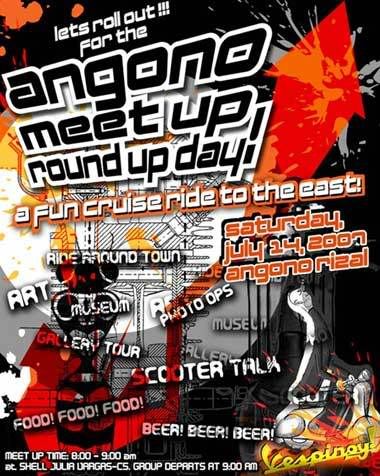 The boys from Angono, Rizal are going to be sponsoring a ride around their historic place on Saturday, July 14. Too bad I won't be able to join because of a prior commitment. I was looking forward to this trip because Angono is such a treasure in our area (I grew up in the Rizal area too, in the now modern Marikina).
Here's a peek of what's happening that day.

Hep Hep.. Hooray! Hep Hep.. Hooray!
Its the Angono Meet Up – Round Up Day!!!
Date: Saturday, July 14, 2007
Meeting place:
Shell Gasoline Station Julia Vargas/ C5
8:00 am to 9:00 am
Meet up time/Assembly
1st stop:
Nemiranda Arthouse & Gallery
Viewing of paintings and other artworks inside the artist's studio and at the gallery.
2nd stop:
Balaw-Balaw Restaurant & Art Gallery (just a few meters away from Nemiranda Arthouse)
Viewing of paintings, sculptures, murals and other artworks inside the restaurant and at the Gallery.
3rd stop:
The Second Gallery / National Artist Carlos "Botong" Francisco's Residence & Art Studio
This is the art gallery of Totong Francisco, (passaggio) the grandson of Botong, some of his artworks are displayed here.
4th stop:
The Blanco Family Museum
Viewing of Blanco family paintings inside their gallery/museum.
5th stop:
The Haunted Kubo
After all the gallery hopping, we will arrive here at The Haunted Kubo at approximately 12:00 noon, so dito tayo kakain ng lunch. Areglado na ang lunch natin dito (sagot na ng Angono boys). Kainan na!!!
This is going to be a blast! Riding around the country's capital of Art and visiting the various museums and getting treated for lunch to boot!
Argh!! I am eagerly awaiting Part 2!!
Click here for more details regarding the ride.