Posted by
Bimbo
on Jul 3rd, 2007 in
Scooter Talk
|
2 comments
Though this ride is almost a month old, this still remains one of the hardest rides, physically I have ever been on.
A run in ride for the Granturismo, it was a perfect excuse for a ride. Up at 4:00 AM and at the meeting place at 4:30 AM. It's been a while since I've gotten up that early for a ride, which just goes to show how long I've gone without a good ride. So once my schedule cleared up, I took this chance.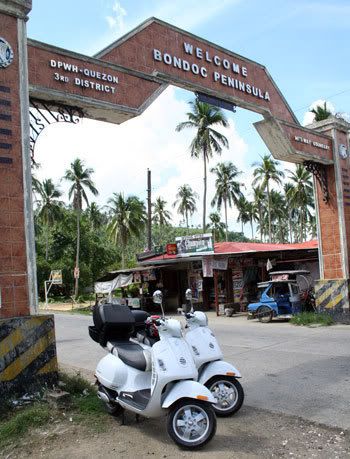 Bondoc Peninsula Arch
Hitting the familiar roads with the Granturismo is an exhilarating experience. Having traveled these roads before on my Vespa PX, I was enjoying the smooth and stable ride of the Granturismo.

Past the familiar roads of Famy and Lucban, we were getting near Bicolandia. As John Rana mentioned in one of our stops, "Pare alam mong malayo ka na pag nakikita mo na yung sign na 'To Bicol'!" ("You know you've ridden far once you see the road signs say 'To Bicol'")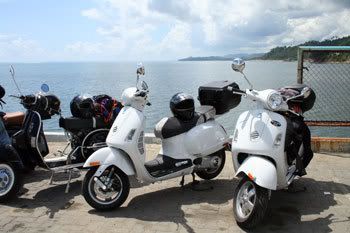 Port of Atimonan, Quezon
Oh and by the way, we did the whole trip back on the same day. We finally got back to Manila around 7:00 PM, I was tired, dirty and wearing a big smile. I can't wait to do that again.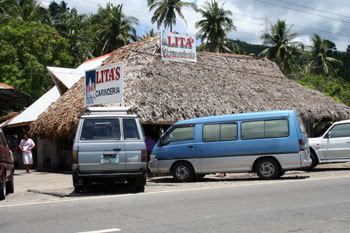 Lita's Carinderia along the HiWay of Atimonan, Quezon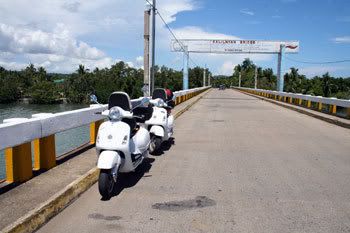 Kalilayan Bridge, Quezon