Posted by
Bimbo
on Apr 2nd, 2009 in
Scooter Talk
|
2 comments
Just came back from 2211 Works and had a look at the new units they had in stock. There were only a couple of models that they brought in but they make up the cream of the crop in the Vespa line.

We have the Vespa GTV. 2211 brought in two variants of the Special Edition Vespa GTV. This 250cc fuel injected scooter marks it's re-entry into the market since it was first introduced early last year.
The first variant is the Sienna GTV with full options (leather seats, rear folding rack).

The second variant is the Navy GTV with standard options.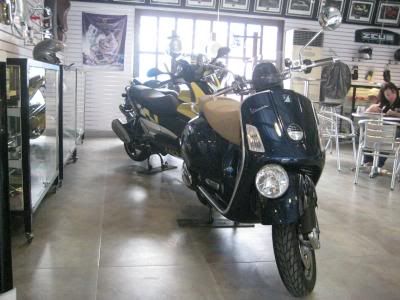 Both still carry the famous Vespa GT performance line and I must say the new colors are rather tempting. In fact Migs wouldn't stop egging me to get the base model (Navy GTV). We'll see Migs, we'll see. 😉
The Vespa LX was also brought in but most of the units have already been bought by a customer for use in their company. Pity, since they really had nice colors.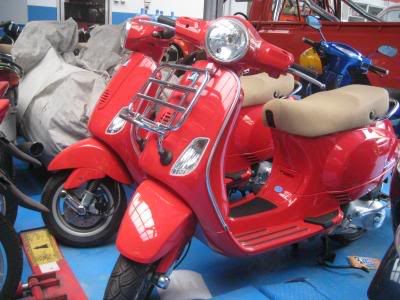 The most awaited scoot of this batch was the Vespa S. I was thinking that this was all hype but after seeing it first hand, I can safely say, this is a really pretty scooter.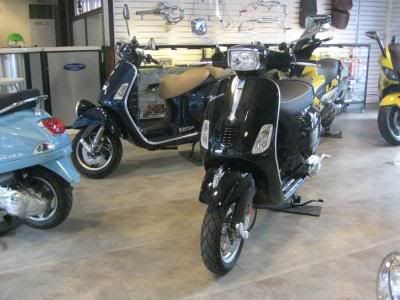 Performance wise, it remains to be seen how the Vespa S does against it's much more robust sibling the LX. Reports from the web and from 2211 state that the Vespa S is geared to provide more torque which is always a treat to have in Manila traffic. There are only 5 units for sale and rumor has it that these will be the only units available for quite a while since the next shipment of Vespas from the new distributor does not include the Vespa S.